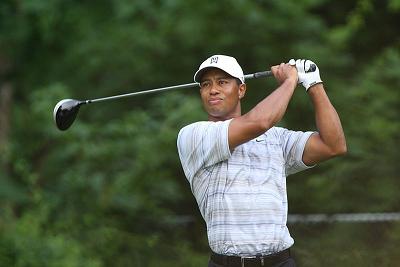 As the Masters golf tournament 2012 gets underway this week and the excitement builds, I just wonder if the Tiger Woods practice routine might just help him to carry off the trophy for his fifth time. With all the golf training out of the way, now's the time to go and do the business.
Already on the four times winner mark in (1997, 2001, 2002 and 2005) with another great favorite, Arnold Palmer, is it time for the Tiger to strike again.
For anyone who would like to emulate Tiger Woods and win lot's of tournaments, here's a bit of an idea of what golf training and practice it will involve.
First of, Tiger kicks off at 6-30 in the morning with an hour of cardio training and another hour of various weight training exercises. That's two hours of workout before he even looks at a golf ball.
Another two hours out on the range getting the swing in shape and another half hour to an hour practicing with the putter. Remember, still not out on the course yet.
It's not until mid-day that he will hit the golf course and play 9 holes before having lunch. It will be 7 O-clock before Tiger finally completes this training routine.
Tiger Woods Practice Routine
6:30 a.m. – One hour of cardio. Choice between endurance runs, sprints or biking.

7:30 a.m. – One hour of lower weight training. 60-70 percent of normal lifting weight, high reps and multiple sets.

8:30 a.m. – High protein/low-fat breakfast. Typically includes egg-white omelet with vegetables.

9:00 a.m. – Two hours on the golf course. Hit on the range and work on swing.

11:00 a.m. – Practice putting for 30 minutes to an hour.

Noon – Play nine holes.
To see a full breakdown of the Tiger Woods practice routine, visit the site at the link. Is it for you? Well if your goal is to reach this level of golf, it might well be a requirement.
Tagged with: Tiger Woods practice routine
Filed under: Golf Advice